Despite a recent poll suggesting 1 in 5 Americans are no longer "religious," Contemporary Christian Music is not only going strong, but
compounding its influence in American popular music
. What gave rise to this phenomena, and how did this previously debased media form become one of the most effective forms of evangelism in the modern era? We shall explore this question in a two-part series exploring popular music in American Christianity.
The Devil's Music
The 1950s and 1960s in America were a time of cataclysmic change including the introduction of occult and eastern traditions into mainstream music, widespread reactions and demonstrations to the government, and a general suspicion of authority that pervaded youth culture. The response of the Christian church to rock music followed a similar response towards these changes in the overall American culture: fear and suspicion. David Wilkerson wrote "The Devil's Heartbeat: Rock and Roll!" (1959) in this climate, lambasting rock and roll as an inherently immoral form of music. In addition to the content of rock music affirming immoral sexual practices, Wilkerson claimed that Rock music was also seen as unconsciously altering the minds of youth causing them to become unwitting social deviants. Others alleged during that time that there were "hidden messages" in rock music, influencing the youth to do drugs, commit crimes, etc. There was a deep fear regarding how the music itself was able to induce ecstatic and emotional states that could override human reason, leading to unnatural or even "primal" acts of debauchery (many feared that the undulations of Elvis Presley were corrupting the sexual integrity of their teenagers). Some even went so far as to allege that the rhythm and volume of rock music was destructive to the human body, citing studies done on houseplants that showed their degeneration via repeated exposure to rock music.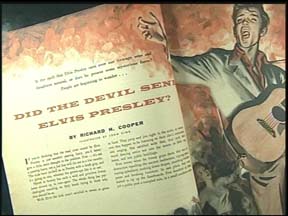 You can watch this video production from 1992 that discusses some of the theological points of contention
Tradition of Worship
The Old Testament God sings to us "
The LORD your God is with you, he is mighty to save. He will take great delight in you, he will quiet you with his love, he will rejoice over you with singing"
(
Zephaniah 3:17
). There is also a tradition of worship and the use of
instrumental accompaniment
throughout the Psalms that continues even into the liturgies of the early church. In this sense, there seems to be little issue with particular forms of music in the Christian tradition. However, the problem arises when many began to consider that music itself could be influential in a morally destructive way. However, some Christians began to consider that Rock music could be cleansed of these "evil"
influences if the music was oriented towards Godly worship and away from hedonistic music festivals, sex and drugs.
Sanitizing the Devil
Following these insights into worship music, some church worship leaders attempted to provide an alternative form of music that would offer a spiritual, sanitized form of rock for the youth to consume. In the 1960s, Evangelical churches began to incorporate non-traditional musical instruments and rock-like innovations in the liturgy leading to new kinds of music in the church. Largely Evangelical rock music has been limited to the rise of soft rock, adult contemporary, and country, however towards the end of the 1990s rap, grunge and hip hop became popular forms for expressing Christian worship.
Larry Norman - Can't Take Away the Lord
Larry Norman released the album
Upon this Rock
in 1969, considered by many to be one of the first Christian Rock Albums. In this clip you can see the influence of blues, the upbeat tempo characteristic of Rock and Roll, a more guttural singing timbre and the influence of the almost ubiquitous
4/4 rock and roll drum beat.
Willow Creek Church was formed in 1975, and the Willow Creek Association formed in 1992 as a way to connect Evangelical pastors in new ways of reaching their local communities, utilizing different forms of music, and incorporating staging, lighting and other elements from mainstream cinema and the music industry. The WCA also began to launch a Global leadership summit to provide tools to a worldwide assortment of churches for developing their congregations in America and abroad. It has since grown to become largest networked church association in America committed to adapting the style and idiom of contemporary culture into their worship, sermons and overall message.
Exponential Growth of Contemporary Christian Music Industry
Growth in the Contemporary Christian Music industry has been phenomenal. From $188 million in recorded music sales in 1990 to about $700 million in 2007, and has continued to grow steadily since then. In 2012, two Christian artists TobyMac and Lacrae both
topped the music charts consistently
with
Eye on It
and
Butterfly Kisses
. Not since Amy Grant exploded onto the music scene in 2006 has there been such a resurgence in popularity in Christian music. As the music of TobyMac and Lacrae attest to, their music is often a blended form including influences from hip hop, heavy metal, punk, country, and alternative rock. Other successful artists that have broken down the divide between contemporary Christian music and secular music industry include Jars of Clay, Styper, Switch Foot, and many others.
Engaging with the Corporate World
The growth of Contemporary Christian Music Industry has been the result of a melding and merging of the corporate practices with Christian messages. Word Inc. and Sparrow Records used promotion styles borrowed from contemporary music industry to increase of distribution of Christian music, advertise artists, bands, and generally help spread such music all across the world.
Cornerstone Festival
in Peoria, Illinois is one example of a 4-day gathering or Woodstock-like event where participants camp out and listen to Contemporary Christian Music, ask for autographs, dance and generally enjoy the music. Knott's Berry Farm also hosts a "Jubilation" concert each year which draws Contemporary Christian musicians into the mix.
Criticisms and Justification
Because of the growing affinity between music industry, secular culture, and christian worship music, many band members have been forced to justify not only their appropriation of secular culture, but also how they navigate the tricky waters of "staying pure" to their message. usually the justification comes in three forms:
Since all things from God are good, then no form of worship is inherently evil.
Instead, a proper Christian must modify the mode of delivery by staying true to an authentic message of Christian salvation in their lyrics. Although this continues to be the official stance of many Christian musicians, listeners have also seen that the "message" has been toned down or diluted (sometimes not even mentioning Christian words at all, or making somewhat vague references to God). This begs the question how much the "mode" has bent or constricted the "message."
IX Saves developed a particular attitude towards dealing with female fans called the "Mackability" laws. Basically, it holds each band member to not remain alone after a rock concert in the presence of another female, nor to flirt or make advances towards one of the star-struck fans back stage. There are also boundaries for drug use, and proper actions that befit a Christian.
In this way, Musicians have argued that their accommodation of secular music and some practices of the music industry have not contaminated either their worship of the Lord or their Christianity.
Next time
Response to "Hipster" faith from Christian leaders
State of worship music in faith today
The larger debate: When are we eating with sinners, and when are we adopting sinful habits?